CAGE - What can it do for you?
Highly sensitive and accurate quantitative transcriptome analysis not only as a gene, but as a Transcription Start Site (TSS).
Reliable way to discover Transcription Factor binding motif based on the true TSS nearby the actual promoter.
Unique and powerful tool to discover alternative promoters for all endogenous genes.
Help you to discover new biomarker and/or bidirectional enhancer RNA.
Clarifying the heterogeneity and complexity of transcriptomes from the view of Cause of Transcription instead of expression profiling.
Linking expression values to promoter sites for a better understanding of how signaling pathways regulate transcription.
PCR-free operation procedures provide unbiased quantification of transcript amount.
Difference from RNA-Seq and other gene expression analysis techniques
Different from Microarray and RNA-seq, CAGE is able to accurately identify transcriptional start sites (TSSs) and the corresponding promoter regions through sequencing the 3' end of cDNA (5' end of RNA). This makes CAGE a powerful tool to analyze the gene regulation in the TSSs level, enabling analysis of the gene regulated by multiple alternative promoters. Therefore, CAGE can serve as a new perspective approach for genome annotation, by elucidating transcriptional signaling cascades, and performing other functions.
Comparison among major gene expression analysis techniques
CAGE
RNA-seq
SAGE
Microarray
de novo Gene Finding
good
good
good
N/A
Gene Expression Quantification
superior*1 1
*1 free of PCR bias unaffected by gene size
good
good
average
Determining Promoter Site
superior
average
N/A
N/A
Motif Finding for Transcription Factor Binding Site
superior
average
average*2 2
*2 depending on known 5' end sequence information
average*3

2


*3 depending on known 5' end sequence information
Identification of Bidirectional Enhancer RNA
superior
N/A
N/A
N/A
Determining Transcription Start/1st Exon Site
superior
average
N/A
N/A
Determining Gene Structure (intron/exon, alternative splicing variants)
N/A
average*43
*4 depending on sequence depth
N/A
N/A
Duration of Work Process
average
average
average
good
Library Preparation Complicatedness
Long Time 4

(8 days)

average
average
easy
Data Analysis Tools
average
good
average
good
("N/A" means not applicable)
1 free of PCR bias and unaffected by gene size
2 depending on known 5' end sequence information
3 depending on sequence depth
4 8 days
What is the CAGE method?
Cap Analysis of Gene Expression (CAGE) is a method for promoter identification and transcription profiling developed by RIKEN (Patent Number: US 6174669, US 6221599, US8809518, etc.). CAGE utilizes a "cap-trapping" technology based on the biotinylation of the 7-methylguanosine cap of Pol II transcripts, to pull down the 5'-complete cDNAs reversely transcribed from the captured transcripts. Through a massive parallel sequencing of the 5' end of cDNA and analysis of the sequenced tags, transcription start sites and transcripts amount are inferred on a genome-wide scale. Thus, CAGE provides an effective genome-wide transcriptional profiling as an alternative to microarray and RNA-seq.
We are offering CAGE library preparation service with or without sequencing & basic bioinformatics analysis.
Item
Specification
Comment
Total RNA required
3 μg of total RNA/sample for PCR free CAGE library
If possible, please provide 12μg of total RNA for PCR free CAGE library preparation service.
CAGE library can be prepared from few 100ng of total RNA, by adding PCR amplification.
RNA entry QC
Bioanalyzer
We perform entry QC on all samples.
DNA amount of CAGE library
Several ng
DNA fragments ready for illumine NGS sequencer.
Sequencing platform
Illumina NextSeq 500
Number of reads per sample guaranteed
15M reads/sample
Optional extra sequencing
Number of lanes per sample
Additional reads are available with additional charge.
Mapping rate
About 75% of tags map to unique mapping position
4 M mappable CAGE tags / sample is guaranteed.
Sequence data
Provided with Illumina file format
Delimited text files holding sequence information and quality scores.
Data Analysis
Mapping positions, Read count quantification, CTSS clustering, Differential expression analysis, Gene Ontology enrichment analysis and Transcriptional Factor binding motif search
Tables/flat files: number of raw reads, number of extracted tags, number of mapped tags, etc.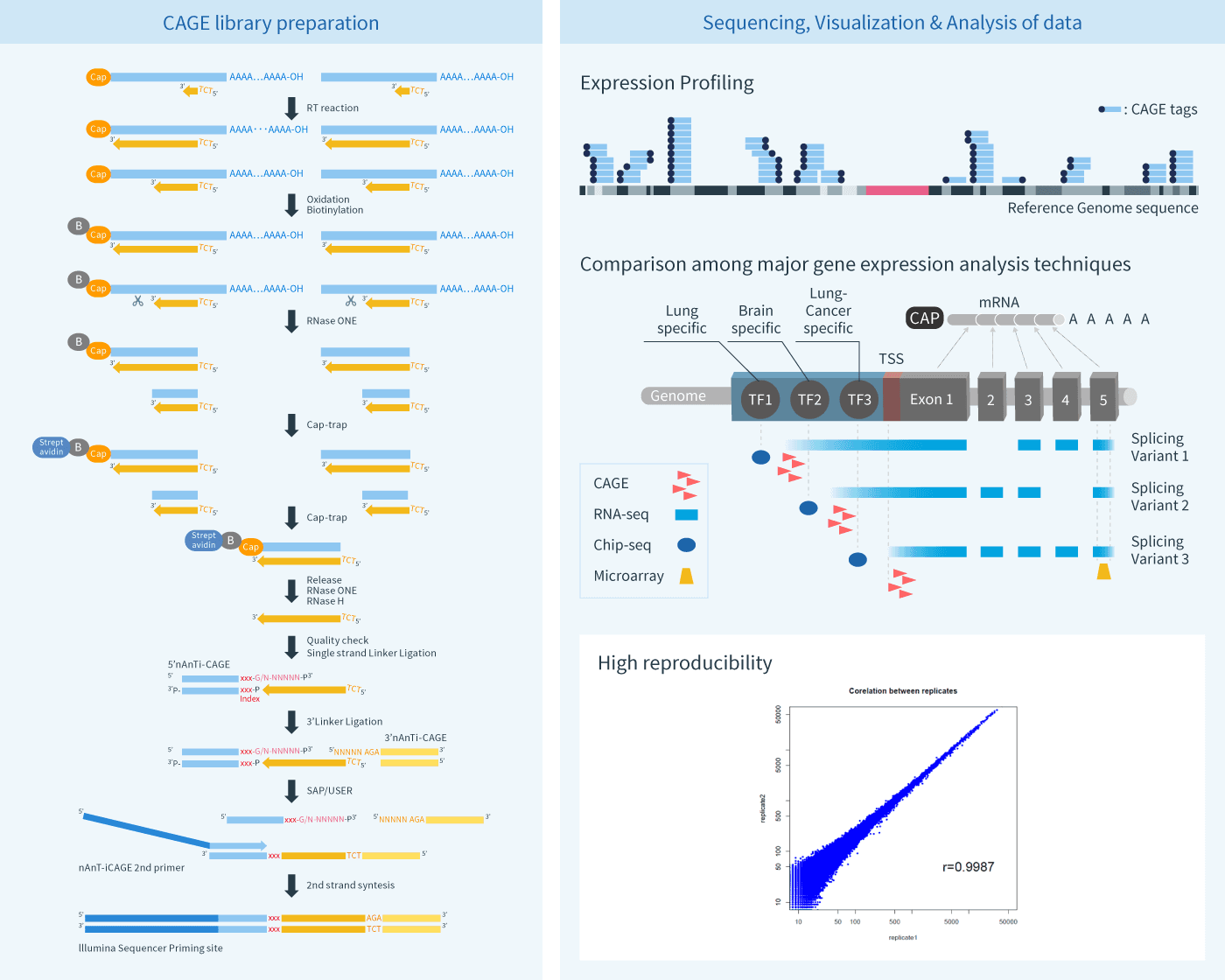 Learn More About the Analysis Methodology
See details about sequencing, visualization, and analysis of data.
Sample Data Download
Downlod the raw fastq data, processed fastq data, reference genome, and analysis results
* The file may take some time to download as the total data size is 32.6GB.
Download